November 30, 2022
@
6:30 pm
–
7:30 pm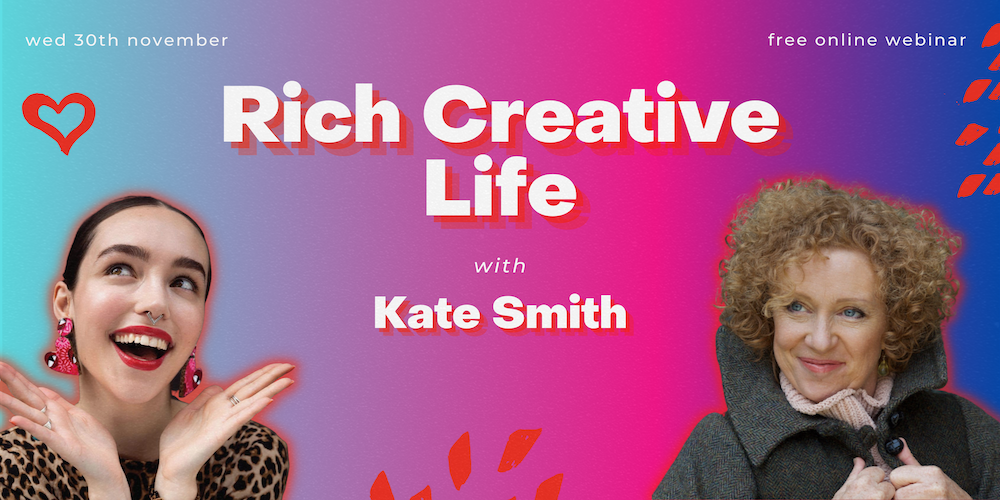 What does it mean to live a rich creative life? After living through a pandemic and innumerable disasters over the past few years, many of us are yearning for deeper connections to our people, practice, and purpose. Living a life that lights us up requires us to be proactive—but what does this look like on a practical level? And what do we do when the space between where we are now and where we want to be looks more like a canyon than a gap?
In this conversation-style webinar, Lillie Brown will be joined by the enigmatic Dr. Kate Smith to explore the concept of a rich creative life. Together, they'll delve into the tenets of a rich creative life; Kate's golden Rule of Three, what it means to be an embodied creator, how to sustain change in our lives, and the potency of deep self-knowledge.
If you want to create, play, and live a meaningful life, this conversation is for you.
What's Included?
A 60 minute webinar with our creative industries experts (which you can access later if you want), plus lifetime access to additional resources on our website containing more resources to support your learning.
Who should sign up?
Creative and arts practitioners, freelancers, start-ups, students and arts entrepreneurs from beginners to established (International sign-ups welcome!). We also welcome curious hobbyists and people from outside the arts.
Who's the Host?
Lillie Brown is a freelance marketing strategist and Marketing Manager of Creative Plus Business. Lillie works with small to medium creative businesses to devise and implement marketing and social media strategies that are easy for creative brains to digest. She walks clients through a comprehensive planning process to create simple to understand and actionable strategies to help them fulfil their vision – including Creative Plus Business!
Dr. Kate Smith is a comedic performer, creative producer, and published academic whose art practice has evolved from stand-up to playwriting, to cross-sector community arts practice to creative mentoring and profile raising for regional arts. Kate's distinctiveness is her ability to create chemistry with an audience using humour with a profound impact. She has been named in the top five best actors in comedy
(SuzyGoesSee; 'Best of 2016'); Highway of Lost Hearts with Lingua Theatre in Bathurst (Dir; Adam Deusien 2018, 2021); Women On The Edge podcast (2022); CreateNSW Regional Fellowship recipient (2019). Stage works with Drew Fairley have toured nationally and internationally with sold-out seasons in Sydney, Edinburgh, Melbourne, Adelaide, and Hong Kong.
What's Creative Plus Business?
We're an educational organisation dedicated to helping creative people and arts organisations finesse their entrepreneurial skills. We help by sharing practical knowledge in a fun and irreverent way, and everything we do is designed to help creatives to feel more confident and comfortable about the entrepreneurial aspects of their creative practice. We believe that a bit of naughtiness, tempered with a kind heart and a big dose of professionalism, is the key to helping creative people understand the boring basics of business.