June 27, 2022
@
6:30 pm
–
8:00 pm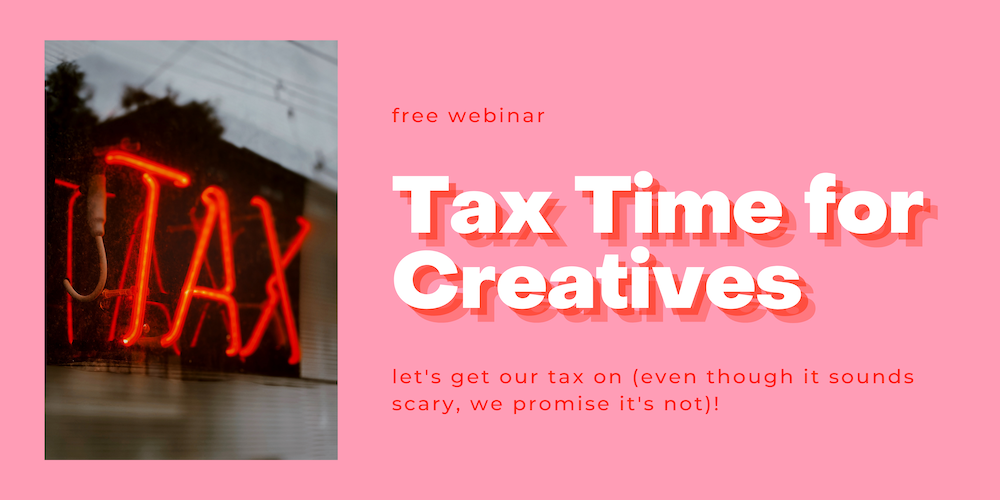 It's almost the end of the financial year, which means it's time to get your money stuff in order. It's not much fun, but a few simple tips and tricks (and a friendly face) can help.
This FREE webinar will help you get organised in time for EOFY and take the terror out of tax. Creatives, you are not alone!
NOTE: This workshop will be Auslan-interpreted.
We'll be looking at:
+ The key creative tax rulings you need to know;
+ Are you a hobby or a business?
+ How to work out your deductions;
+ Easy tips and tricks for record-keeping;
+ Cloud Accounting suggestions;
+ Preparing for TAX (eugh!);
+ Better financial habits for next year.
Who should sign up?
Creative industries professionals and business people from start-up to established (Australia only, sorry!). We also welcome creative freelancers, soloists, students, start-ups, and curious hobbyists.
Who's the host with le most?
Monica Davidson, director and doyenne of Creative Plus Business, teacher of tax and record keeping, lover of financial organisation, and super fun at parties.
What's Creative Plus Business?
We're a social enterprise dedicated to educating creative people and arts organisations about business skills. We help through sharing practical knowledge in a fun and irreverent way, and everything we do is designed to help creatives to feel more confident and comfortable about the entrepreneurial aspects of their creative practice. We believe that a bit of naughtiness, tempered with a kind heart and a big dose of professionalism, is the key to helping creative people understand the boring basics of business.
Accessibility: if you have any access requirements, please email hello@creativeplusbusiness.com
This webinar will take place on Crowdcast, and it will be recorded.