May 30, 2022
@
6:30 pm
–
7:30 pm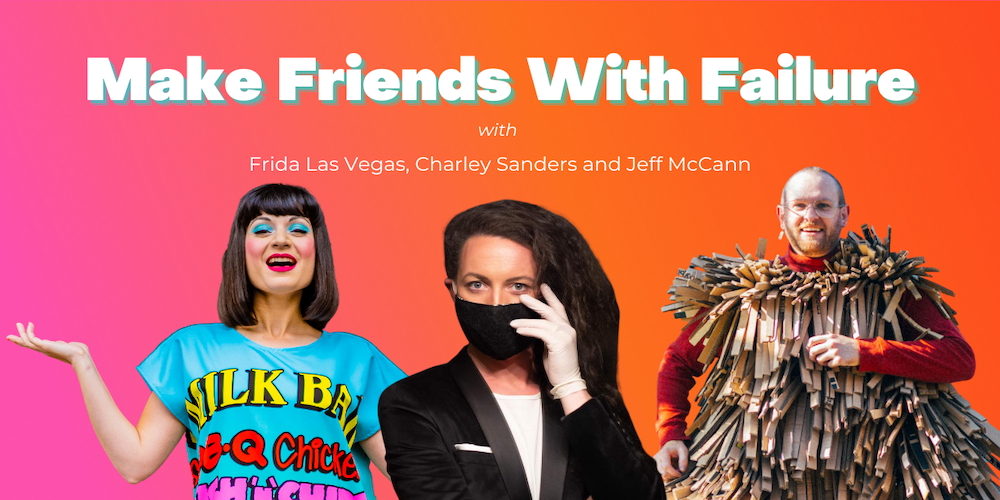 When it comes to navigating your business and creative practice, there is one F-word so dreadful, so terribly un-funky, that it brings a chill to your very bones… and that word is… (let's hear it from the perfectionists in the back) FAILURE!

However, we also know that failure is an inevitable part of any process that involves creativity, collaboration and risk. Learning to fail sounds absolutely terrifying, but it's exactly what you need when it comes to figuring out how to succeed!

In this webinar, our hosts with the most will discuss failure honestly and openly, the challenges and pitfalls of negotiating defeat, and practical ways to make friends with failure and turn a negative experience into a positive outcome.

What's Included?
A 60 minute webinar with our creative industries experts (which you can access later if you want), plus lifetime access to additional resources on our website containing more resources to support your learning.

Who should sign up?
Creative and arts practitioners, freelancers, start-ups, students and arts entrepreneurs from beginners to established (International sign-ups welcome!). We also welcome curious hobbyists and people from outside the arts.

Who's hosting?
Monica Davidson, fearless and fabulous Director and Doyenne of Creative Plus Business, certified knower of things, and lover of all F-words.
Charley Sanders is a theatre and contemporary performance maker and producer whose practice includes directing, dramaturgy, performance and creative producing. She is Co-Artistic Director of award-winning trans-tasman contemporary performance company House of Sand, and has worked freelance across the industry, mostly in Sydney and Adelaide, including for Opera Australia, State Theatre Co. South Australia, The Old 505, RUMPUS, and Paul Lucas Productions (NYC).
Jeff McCann's work ranges from community engagement projects, public art, workshops and collaborations through to illustration, props and fashion. Their practice strives to create inclusive work that encourages his audience to get involved and have some fun!
Stavroula Adameitis is a Sydney-based artist known for her bold and bombastic Pop Art fashion designs, neon light artworks and immersive installations working under the alias FRIDA LAS VEGAS. Inspired by the signs and symbols of Australia, Stavroula's FRIDA LAS VEGAS universe remixes nostalgia with a graphic sensibility to create an explosive visual statement across mediums.

What's Creative Plus Business? 
We're an educational organisation dedicated to educating creative people and arts organisations about entrepreneurial skills. We help by sharing practical knowledge in a fun and irreverent way, and everything we do is designed to help creatives to feel more confident and comfortable about the entrepreneurial aspects of their creative practice. We believe that a bit of naughtiness, tempered with a kind heart and a big dose of professionalism, is the key to helping creative people understand the boring basics of business.
Accessibility: if you have any access requirements, please email hello@creativeplusbusiness.com
This webinar will take place on Crowdcast, and it will be recorded.